FC Barcelona Goalkeepers 2023
FC Barcelona goalkeepers 2023? List of FC Barcelona goalkeepers past and present? Here is our list of the current FC Barcelona goalkeepers 2023. Watch & Bet Football Live =>
Barcelona current squad goalkeepers 2023
What is Barcelona's goalkeepers name? Barcelona Goalkeepers name? FC Barcelona have three goalkeepers in their squad. German international Marc-Andre ter Stegen is the number one choice. While former Juventus and Valencia keeper Neto is the second choice. Watch & Bet Football Live =>
List of Barcelona goalkeepers 2023
So here we take a look at the FC Barcelona goalkeepers 2023.
FC Barcelona first team goalkeeper 2023: Marc-Andre ter Stegen
Shirt Number: 1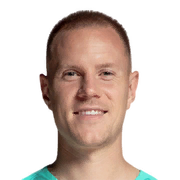 Position: Goalkeeper
Born: Apr 30, 1992
Age: 29
Nationality: Germany
Height: 1,87 m
Transfer Fee: €12m (From B. Mönchengladbach)
Joined: Jul 1, 2014
Contract Expiry: 30/06/2025
In May 2014, Ter Stegen was announced as the new goalkeeper of Spanish club Barcelona, after the departures of Víctor Valdés and José Manuel Pinto, effective during the summer transfer window.
Back in 2019, he signed a five-year contract that would keep him at the club until June 2025. The transfer fee was €12 million, and the buy-out clause was set to €80 million. After the move, Ter Stegen said joining the club was the right move and that he aimed to settle at the club.
He won the treble in his first season in Spain, playing for Barcelona in Copa del Rey and Champions League.
FC Barcelona goalkeepers 2023: Neto
Shirt Number: 13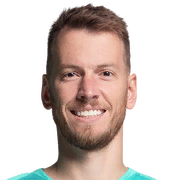 Position: Goalkeeper
Born: Jul 19, 1989
Age: 32
Nationality: Brazil
Height: 1,90 m
Transfer Fee: €26m (From Valencia)
Joined: Jul 1, 2019
Contract Expiry: 30/06/2023
On 27 June 2019, it was announced that Neto would move to Barcelona for €26m plus €9m in add-ons. One day earlier, Barcelona backup goalkeeper Jasper Cillessen left Barcelona for €35m to take Neto's spot as the starting goalkeeper for Valencia.
On 10 December 2019, Neto played the full 90 minutes as Barca knocked out Inter Milan out of the Champions League.
Neto began his career with Brazilian side Athletico Paranaense and later played for Italian side Fiorentina. He joined Juventus in 2015, where he won the domestic double in each of his two seasons with the club, serving as a back-up to starter Gianluigi Buffon in the league, but appearing in all of the club's games in both of their victorious Coppa Italia campaigns. In 2017, he joined Spanish side Valencia where he played 67 total games.
Back up goalkeeper: Inaki Pena
The young 22-year-old has come through the paces at La Masia. Playing and proving himself for Barcelona B, he has now earned a chance to train with the first team and learn from the best.
Old Barcelona goalkeepers in the past and present – all old, ex, former and past Barcelona goalkeepers!
Barcelona ex goalkeepers? Former Barcelona goalkeepers? Wich where Barcelona goalkeeper last season? So here we take a look at the FC Barcelona goalkeepers 2018.
Barcelona goalkeeper last season: Barcelona Goalkeepers List 2018/2019
Barcelona goalkeepers past 2018/2019 – Jasper Cillessen
Shirt Number: 13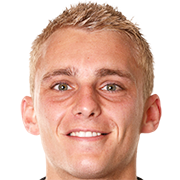 Position: Goalkeeper
Born: Apr 22, 1989
Age: 30
Nationality: Netherlands
Height: 1,87
Transfer Fee: €13m (From Ajax)
Joined: Aug 25, 2016
Current club: Valencia
In August 2016, Cillessen signed a five-year contract with Barcelona for an initial €13 million transfer fee plus another €2 million in add-ons, replacing the outgoing Claudio Bravo.
After only three training sessions, he made his debut in a home La Liga match against Alavés, conceding twice from five attempts in a 1–2 loss. Since his move to Barcelona in 2016, Cillessen managed to play a major role in the Copa del Rey for both the 2016–17 and 2017–18 seasons, starting 17 of 18 matches in the competition.
Barcelona won the trophy in both seasons, making the club four-time consecutive Copa del Rey winners since 2014–15. On 30 January 2019, he saved the first penalty of his professional career after 20 attempts in a 6–1 home win over Sevilla in the Copa del Rey, which enabled Barcelona to advanced to the semi-finals of the competition 6–3 on aggregate.
In June 2019, Cillessen signed a four-year contract with Valencia, for a fee of €35 million.
Barcelona goalkeepers past

2015/16

– Claudio Bravo

Shirt number: 13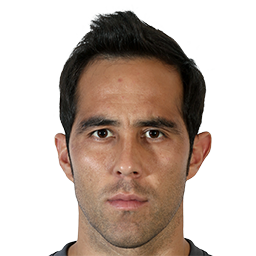 Position: Goalkeeper
Date of birth: Apr 13, 1983
Age: 36
Nationality: Chile
Height: 1,84 m
Transfer Fee: €12m (From Real Sociedad)
Joined: Jul 1, 2014
Current club: Manchester City
Bravo joined Barcelona on in June 2014, with the four-year deal being made effective on 1 July for a reported €12 million fee, the fourth most expensive player ever sold by Real Sociedad after Darko Kovačević, Xabi Alonso and Asier Illarramendi, becoming the second Chilean to ever play for the club after Alexis Sánchez and succeeding Víctor Valdés as the first-choice.
After joining, he set a Spanish League record for the club of not conceding from the start of season for 754 minutes, previously held by Pedro María Artola with 560 minutes; the streak was broken when he conceded his first goal of the season from the penalty spot to Cristiano Ronaldo in a 1–3 defeat to Real Madrid at the Santiago Bernabéu.
Despite winning the treble and the Zamora Trophy in his first season, it was Marc-Andre ter Stegen who was preferred for Barcelona's most important games such as the ones at the Copa del Rey, Champions League and UEFA Super Cup. In the summer of 2016, he moved to Manchester City. Watch & Bet Football Live =>
Barcelona goalkeepers past

2013/14

– Victor Valdes

Shirt number: 1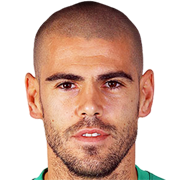 Position: Goalkeeper
Date of birth: Jan 14, 1982
Age: 37
Nationality: Spain
Height: 1,83 m
Transfer Fee: / (From Barcelona B)
Joined: Jul 1, 2002
Current club: Retired
Valdes spent most of his professional career with Barcelona in La Liga, and is regarded as one of the best goalkeepers in the club's history, having appeared in 535 official games for the club and won 21 major titles, notably six La Liga titles and three Champions League championships.
The Spaniard made his first-team debut against Legia Warszawa in the third qualifying round of the Champions League on 14 August 2002.The early part of the 2002–03 season saw Valdes play deputy to Argentine international Roberto Bonano, but the arrival of Radomir Antić as the new manager in January 2003 saw regular first-team opportunities for Valdes.
In the 2003–04 season, he emerged as first-choice goalkeeper, and in the 2004–05 season, he played in almost all of Barcelona's matches, helping Barcelona to their first league title in six years.
He also won the Zamora Trophy a record five times. He currently holds the club records as goalkeeper with most appearances in the league and in official competition, breaking Andoni Zubizarreta's records during the 2011–12 season. Watch & Bet Football Live =>
SEE ALSO: