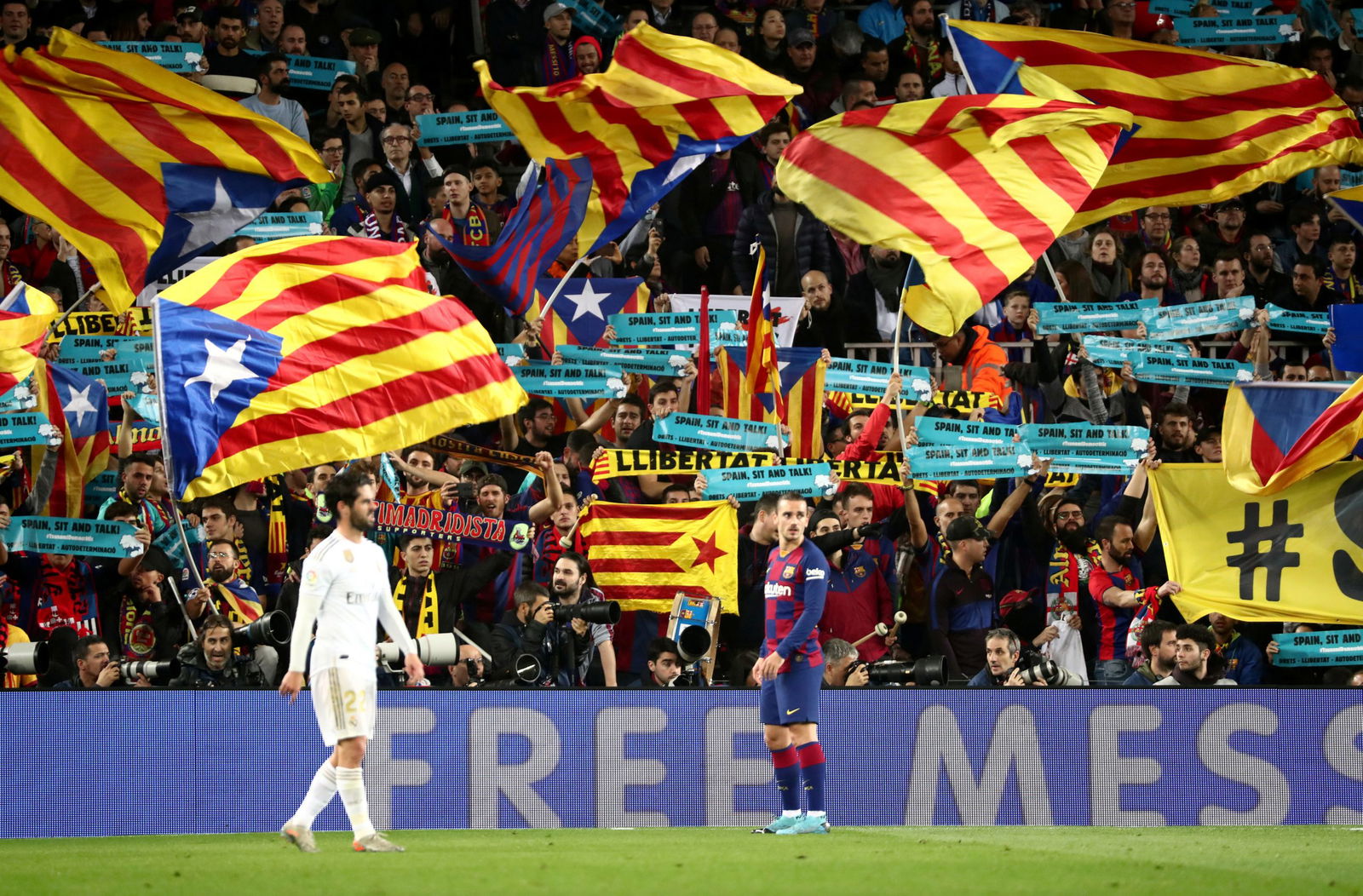 FC Barcelona latest results today – La Liga Results 2019/20
Barcelona Latest Results? The FC Barcelona fixtures has been published separately. Here you will find correct FC Barcelona latest results as of 7 December 2020. Here we look at the latest FC Barcelona results 2019/20.
The 2019/20 season is Barcelona's 120th season in existence and the club's 89th consecutive season in the top flight of Spanish football. After 19 fixtures, they are tied to Real Madrid for the first position of La Liga.
Domestically, Barcelona has won a record 74 trophies; 26 La Liga, 30 Copa del Rey, 13 Supercopa de España, 3 Copa Eva Duarte, and 2 Copa de la Liga trophies, as well as being the record holder for the latter four competitions.
In international club football, the club has won 20 European and worldwide titles; 5 UEFA Champions League titles, a record 4 UEFA Cup Winners' Cup, a joint record 5 UEFA Super Cup, a record 3 Inter-Cities Fairs Cup, and 3 FIFA Club World Cup.
FC Barcelona latest results and situation 2019/2020
Barcelona might be looking to part ways with thieir manager at the end of the season with many fans wanting Valverde axed. He has made some controversial decision so far, and his position could be evaluated in summer 2020. For now, he is safe, though.
Every tournament needs a "group of death" and this season's Champions League has offered up a particularly mouthwatering draw.
Group F earned that tag, featuring Barcelona, Borussia Dortmund and a new-look Inter Milan side, oosted by the arrival of new manager Antonio Conte, star striker Romelu Lukaku and Chilean Alexis Sanchez. The unfortunate team from pot four to be drawn with these European giants is Czech side Slavia Prague, whose representatives in the audience could only smile after seeing its name added to the group.
Eventually, Barcelona finished first ahead of Borussia Dortmund, with Inter Milan falling to the Europa League and Slavia Prague going home empty-handed. The Blaugrana and will play Napoli away on 25 February and host the Italians on 18 March 2020 in the round of 16 in order to get to the Champions League treble this season. They also play the Copa Del Rey.
FC Barcelona La Liga results 2019/2020 – Round 19-38
FC Barcelona latest La Liga results? Here are the latest FC Barcelona results in La Liga Round 19-38: 
| | | | | |
| --- | --- | --- | --- | --- |
| Round | Date | Home Team | Away Team | Result  |
| 19 | 04/01/20 | Espanyol | Barcelona | |
| 20 | 19/01/20 | Barcelona | Granada | |
| 21 | 25/01/20 | Valencia | Barcelona | |
| 22 | 02/02/20 | Barcelona | Levante | |
| 23 | 09/02/20 | Real Betis | Barcelona | |
| 24 | 16/02/20 | Barcelona | Getafe | |
| 25 | 23/02/20 | Barcelona | Eibar | |
| 26 | 01/03/20 | Real Madrid | Barcelona | |
| 27 | 08/03/20 | Barcelona | Real Sociedad | |
| 28 | 15/03/20 | Mallorca | Barcelona | |
| 29 | 22/03/20 | Barcelona | Leganes | |
| 30 | 05/04/20 | Sevilla | Barcelona | |
| 31 | 12/04/20 | Barcelona | Athletic Club | |
| 32 | 22/04/20 | Celta Vigo | Barcelona | |
| 33 | 26/04/20 | Barcelona | Atletico Madrid | |
| 34 | 03/05/20 | Villarreal | Barcelona | |
| 35 | 10/05/20 | Barcelona | Espanyol | |
| 36 | 13/05/20 | Real Valladolid | Barcelona | |
| 37 | 17/05/20 | Barcelona | Osasuna | |
| 38 | 24/05/20 | Deportivo Alavés | Barcelona | |
FC Barcelona La Liga results 2019/2020 – Round 1-18
Here are FC Barcelona La Liga results Round 1-18: 
| | | | | |
| --- | --- | --- | --- | --- |
| Round | Date | Home Team | Away Team | Result |
| 1 | 16/08/19 | Athletic Club | Barcelona | 1-0 |
| 2 | 25/08/19 | Barcelona | Real Betis | 5-2 |
| 3 | 31/08/19 | Osasuna | Barcelona | 2-2 |
| 4 | 14/09/19 | Barcelona | Valencia | 5-2 |
| 5 | 21/09/19 | Granada | Barcelona | 2-0 |
| 6 | 24/09/19 | Barcelona | Villarreal | 2-1 |
| 7 | 28/09/19 | Getafe | Barcelona | 0-2 |
| 8 | 06/10/19 | Barcelona | Sevilla | 4-0 |
| 9 | 19/10/19 | Eibar | Barcelona | 0-3 |
| 10 | 29/10/19 | Barcelona | Real Valladolid | 5-1 |
| 11 | 02/11/19 | Levante | Barcelona | 3-1 |
| 12 | 09/11/19 | Barcelona | Celta Vigo | 4-1 |
| 13 | 23/11/19 | Leganes | Barcelona | 1-2 |
| 14 | 01/12/19 | Atletico Madrid | Barcelona | 0-1 |
| 15 | 07/12/19 | Barcelona | Mallorca | 5-2 |
| 16 | 14/12/19 | Real Sociedad | Barcelona | 2-2 |
| 17 | 18/12/19 | Barcelona | Real Madrid | 0-0 |
| 18 | 21/12/19 | Barcelona | Deportivo Alavés | 4-1 |
FC Barcelona Champions League 2019/2020 results
FC Barcelona latest Champions League results? Here are all Barcelona Champions League 2019/2020 results:
| | | | | |
| --- | --- | --- | --- | --- |
| Round | Date | Home Team | Away Team | Result |
| Group | 17/09/19 | Borussia Dortmund | Barcelona | 0-0 |
| Group | 02/10/19 | Barcelona | Internazionale | 2-1 |
| Group | 23/10/19 | Slavia Praha | Barcelona | 1-2 |
| Group | 05/11/19 | Barcelona | Slavia Praha | 0-0 |
| Group | 27/11/19 | Barcelona | Borussia Dortmund | 3-1 |
| Group | 10/12/19 | Internazionale | Barcelona | 1-2 |
| Last 16 | 25/02/20 | Napoli | Barcelona | |
| Last 16 | 18/03/20 | Barcelona | Napoli | |
FC Barcelona Copa Del Rey 2019/2020 results
FC Barcelona latest Copa Del Rey results? Here are all Barcelona FA Cup 2019/2020 results:
| | | | | |
| --- | --- | --- | --- | --- |
| Round | Date | Home Team | Away Team | Result |
| | | | | |
SEE ALSO: