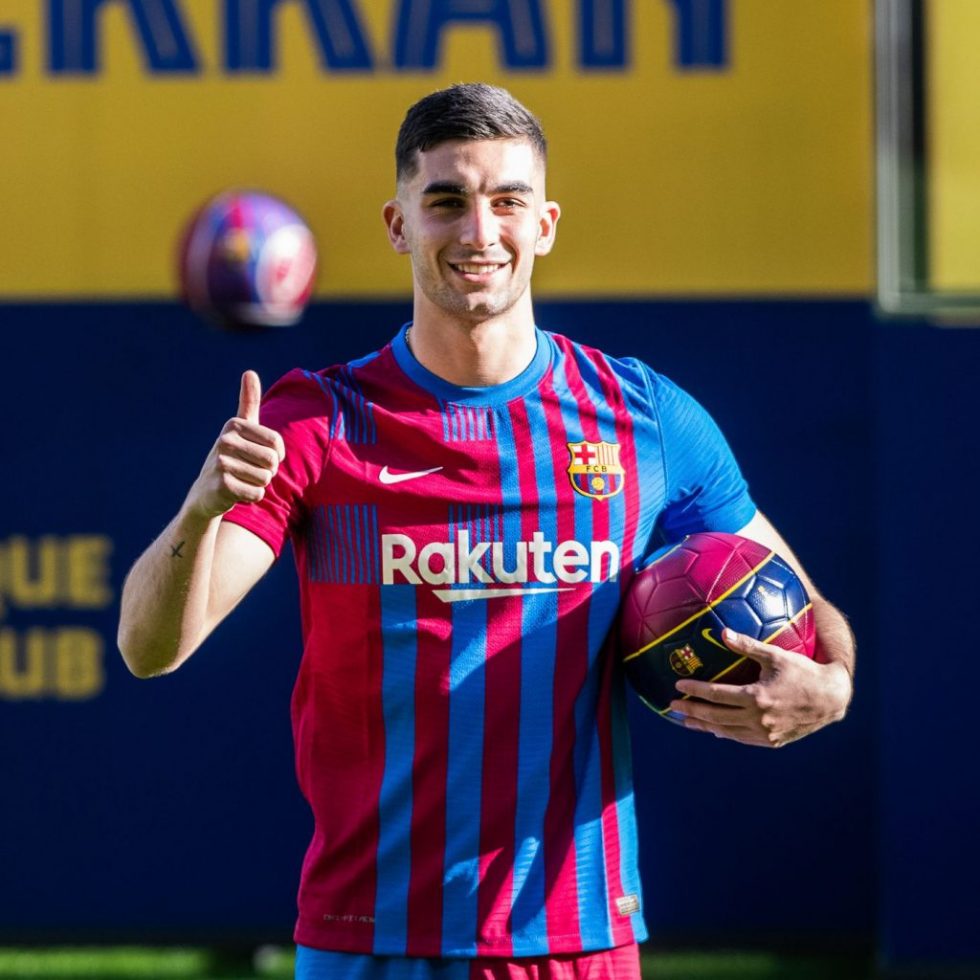 Barcelona Most expensive player? Who is the most Barcelona Most expensive player?
Do you know Barcelona's Most expensive player? Who has Barcelona paid a lot for?
Check out Barcelona's Most expensive player! Here is a table for the top 10 most expensive Barcelona players!

| | | | | | |
| --- | --- | --- | --- | --- | --- |
| # | Player | Age | Season | Left | Fee |
| 1 | Philippe Coutinho | 25 | 17/18 | Liverpool | €135.00m |
| 2 | Ousmane Dembélé | 20 | 17/18 | B. Dortmund | €125.00m |
| 3 | Antoine Griezmann | 28 | 19/20 | Atlético Madrid | €120.00m |
| 4 | Neymar | 21 | 13/14 | Santos FC | €88.00m |
| 5 | Frenkie de Jong | 22 | 19/20 | Ajax | €86.00m |
| 6 | Luis Suárez | 27 | 14/15 | Liverpool | €81.72m |
| 7 | Zlatan Ibrahimovic | 27 | 09/10 | Inter Milan | €69.50m |
| 8 | Miralem Pjanic | 30 | 20/21 | Juventus | €60.00m |
| 9 | Raphinha | 25 | 22/23 | Leeds United | €58.00m |
| 10 | Ferran Torres | 21 | 21/22 | Manchester City | €55.00m |
Let us also see the list for the most expensive player Barcelona has sold
Most expensive Barcelona player sold
| | | | | | |
| --- | --- | --- | --- | --- | --- |
| Sl. No. | Player Position | Age When Sold | Season | Team Sold to – League | Transfer Fee |
| 1 | Neymar Left Winger | 25 | 17/18 | Paris SG Ligue 1 | €222.00m |
| 2 | Arthur Central Midfield | 24 | 20/21 | Juventus Serie A | €72.00m |
| 3 | Luís Figo Right Winger | 27 | 00/01 | Real Madrid LaLiga | €60.00m |
| 4 | Alexis Sánchez Centre-Forward | 25 | 14/15 | Arsenal Premier League | €42.50m |
| 5 | Paulinho Central Midfield | 30 | 18/19 | GZ Evergrande Super League | €42.00m |
| 6 | Malcom Right Winger | 22 | 19/20 | Zenit S-Pb Premier Liga | €40.00m |
| 7 | Jasper Cillessen Goalkeeper | 30 | 19/20 | Valencia LaLiga | €35.00m |
| 8 | Cesc Fàbregas Central Midfield | 27 | 14/15 | Chelsea Premier League | €33.00m |
| 9 | Yerry Mina Centre-Back | 23 | 18/19 | Everton Premier League | €30.25m |
| 10 | Nélson Semedo Right-Back | 26 | 20/21 | Wolves Premier League | €30.00m |
Barcelona Most expensive player Lists
Here we will do a countdown for all Barcelona players for whom the club paid the most from 5-1!
Barcelona Most expensive player
5. Luis Suarez : Barcelona Most expensive player
He is Barcelona's 5th most expensive signing. Signed for 82.3 million euros, Luis Suarez became the most expensive player for Barcelona at one point of time.
Suárez agreed with Barcelona on a five-year contract for an undisclosed transfer fee back in 2014. Notwithstanding, as indicated by a spilled report by Football Leaks, the charge was £64.98 million (€82.3 million), making him one of the most costly players in world football history. It was good money for Liverpool who were simply unable to keep him anymore.
Although Barcelona has had great forwards recently and in the past, he is probably the best forward to have carried out his pure goal scoring exploits at the Nou Camp. Taking into account that they have had the best ever in their positions, that is high praise. But he has earned it with 172 goals in 237 appearances and is still playing to make that record even better.
4. Neymar: Barcelona Most expensive player
The transfer of Brazilian genius Neymar from Santos to Barcelona was filled with rumors and controversy– at first announced as being for a charge of around €57m, the striker ended up costing Barca around €40m more because of an installment made to the player's father, who also happened to be his agent. The entire chaos handled the club in a tough situation and saw them accused of illegal activity, yet on the pitch, Neymar was a  big signing. So the entire cost was assumed to be about 88.2 million.
Even though at that time, his transfer to Barcelona might have seemed expensive, think about his transfer to Paris Saint-Germain. His move to PSG was done at a whopping 222 million euros – breaking any transfer fee in the world! Looks like Barcelona did get a bang for their buck before letting him go. And they may yet stand to earn more by re-signing him in the summer.
3. Antoine Griezmann: Barcelona Most expensive player
He was signed for 108 million Euros for Barcelona. The player was a smart acquistion in terms of talent but we do not yet understand exactly how he fits into their plan.
The club already have an out and out forward in Luis Suarez and they have Lionel Messi on the right who is yet another goal scorer.
Griezmann started his career as a winger on the right who loved to cut in and score with his left foot. This later saw him become a number nine forward who loves to play central. Hence signing Griezmann to play on the left flank seemed like a tactically wrong decision.
Nevertheless the quality of the player cannot be questioned and Griezmann can become one of the best signings at the club given time. He is however, yet to justify his price tag!
2. Ousmane Dembele: Barcelona Most expensive player
His transfer fee sits at 120 million euros, definitely making one of the more expensive Barcelona players. But did he prove his worth for the money the Catalan club paid?
With the €222m from the Neymar's transfer to PSG, Barcelona was pretty rich in the begining of 2017. With that money, their first singing was Ousmane for €120m. At that time, the French 20-year old became one of the most costly players in the world. However, it was indeed a risk given he'd only played one brilliant season in the Bundesliga, and the jury is still out regarding whether his cost will demonstrate to be a waste or a take.
His first season positively was anything but good – he endured a hamstring damage in his first class game and was out for 4 months, and in spite of the fact that he returned and wound up winning La Liga with his new side, he just scored 4 goal in his 24 appearances for Barca. Not yet worth the money then.
He won the UEFA Champions League Goal Of The Week for a brilliant goal against Tottenham Hotspur in the Champions League which was a brilliant individual effort which saw the ball end up in the back of the net. After the match, Barça boss Ernesto Valverde lauded the youth, "He has made an incredible goal, inside reach of players with his ability".
However, Dembele has a lot more to prove. He was signed as a replacement for Neymar who is a world beater. There is no doubt that Dembele may too have exceptional talent but his conversion of that talent on the pitch has been pretty poor so far.
If reports are to be believed, he has not done well primarily because of his life style. He is not a hard trainer. He is not a player who takes care of his body, eats on time or sleeps on time or even follows enough routine to show up for training on time! Let's see what Barcelona do with him in the future.
And finally, the most expensive signing Barcelona had!
1. Philippe Coutinho: Barcelona Most expensive player
He's a Barcelona player who may not have satisfied the club – especially due to the great cost he came in – a great fee of 160 million euros. In January 2018, Coutinho was transferred to Barcelona at a fee initially thought to be 108 million euros, but later was raised to 142 million euros due to different clauses signed.
However, just a couple of days before he joined Barcelona, he found out that he has thigh injuries during his medical. That set him back three weeks from playing in the Catalan club – and naturally, Barca wasn't too delighted about that.
However, Coutinho immediately settled himself as a key footballer in a season which finished with Barcelona lifting La Liga and the Copa del Rey. He likewise by and by achieved his best ever proficient season by accomplishing 22 goals and 14 assists in 42 all out games played for Liverpool and Barcelona.

See More: