FC Barcelona Players Wives and Girlfriends (WAGs) 2021-2022
Barcelona Players Wives and Girlfriends 2022? Barcelona Players Wives and Girlfriends (WAGs) go with football almost as much as beer. They don't call it the beautiful game for nothing.
While FC Barcelona WAGs come and go their hotness remains the same. Here is a current list for some of the Barcelona Players Wives and Girlfriends for 2022 – FC Barcelona Players Wives and Girlfriends WAGs 2022. Watch & Bet Here =>
Barcelona Players wives and girlfriends WAGs 2022
Barcelona Players Wives and Girlfriends? Do you want to know who the Barcelona players are married to/dating? Here we have the Barcelona players wives and girlfriends 2022. Watch & Bet Here =>
Marc-André ter Stegen and his wife Daniela Jehle –
Barcelona players wives and girlfriends 
Daniela Jehle is the wife of Marc-André ter Stegen who is playing for Barcelona as a goalkeeper. Stegen is also a member of the German national team. 

The 28-year-old has been playing for Barcelona since 2014 and has made more than 300 appearances so far. He also has been representing Germany since 2007 at international matches.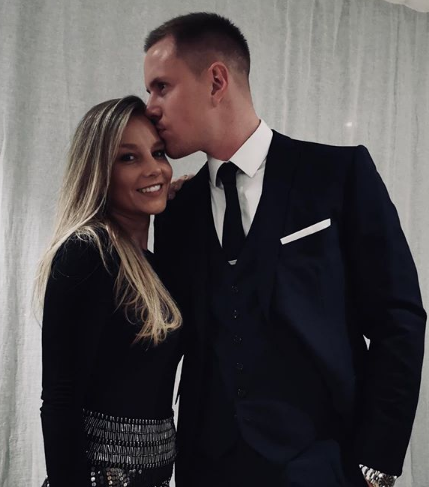 He started dating Daniela Jehle when he was playing for Borussia Mönchengladbach in November 2011. After 5 years together, Marc-Andre ter Stegen decided to take the big step and propose to his girlfriend in 2016. After 10 years of being in love, they now have a child together.
Gerard Piqué and his wife Shakira –
Barcelona players wives and girlfriends 
Gerad Pique's wife Shakira is a Colombian singer. The adorable couple has been together for almost a decade, and during that time they've welcomed two sons together.
The Barcelona star met Shakira on the set of her music video for her 2010 FIFA World Cup anthem, "Waka Waka (This Time for Africa)."
Pique opened up about meeting Shakir during an interview with TV3. He revealed, "It all started when we were in South Africa and I wrote to her. She was already there because she sang in the opening ceremony and I asked her what the weather was like. It is the typical stupid question… it got to the point where I told her we would have to get to the World Cup final to see her again—she was singing at the final."

In May 2011, Piqué and Shakira confirmed their relationship. In September 2012, Shakira announced her pregnancy. The couple's first child, Milan Piqué Mebarak, was born on January 22, 2013. The couple's second son, Sasha Piqué Mebarak, arrived shortly after, on January 29, 2015. 
In 2020, Shakira opened up about her decision not to get married. She said, "To tell you the truth, marriage scares the shit out of me. I don't want him to see me as the wife. I'd rather him see me as his girlfriend." She teased, "His lover, his girlfriend. It's like a little forbidden fruit, you know? I wanna keep him on his toes. I want him to think that anything's possible depending on behaviour."
Sergio Busquets and his wife Elena Galera Moron –
Barcelona players wives and girlfriends 
Sergio Busquets is playing as a midfielder for Barcelona and probably one of the most famous midfielders in the world. 
Sergio Busquets has been in a long-term relationship with Elena Galera.
The duo started their relationship in 2014 and they have been together ever since then. He started to date Elena when he broke up with Vanessa Aguilera, who he had dated for many years.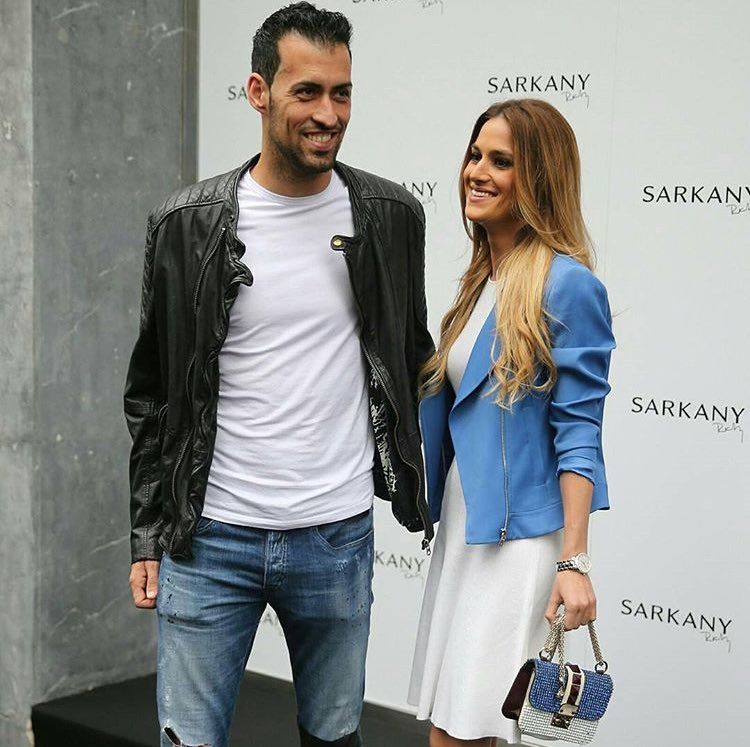 The couple has two sons named Enzo and Levi. Elena gave birth to their first son, Enzo Busquets, in 2016. In 2018, the couple welcomed their second son, Levi Busquets.
When Elena Galera was asked this question: "for those who do not know Elena Galera, how would you define yourself?"
She answered: "Well, I would define myself as a simple girl in my day to day; I like to fix myself and take care of myself without excesses. I consider that I have good genetics and I do not like to abuse things that I think I do not need yet, but I do like to spend time taking care of my skin in a preventive way. If I have an event or dinner, I like to dress up for the occasion as soon as I get a chance. During the day I look more for comfort, dressed more casual, especially since I have the kids."
Jordi Alba and his wife Romarey Ventura –
Barcelona players wives and girlfriends 
Jordi Alba has got engaged to long-term girlfriend Romarey Ventura in 2021 after proposing her on holiday. Both dated for six years to decide the future together. After losing the Euro 2020 semi-final to eventual winners Italy, Alaba decided to make Romarey Ventura his wife.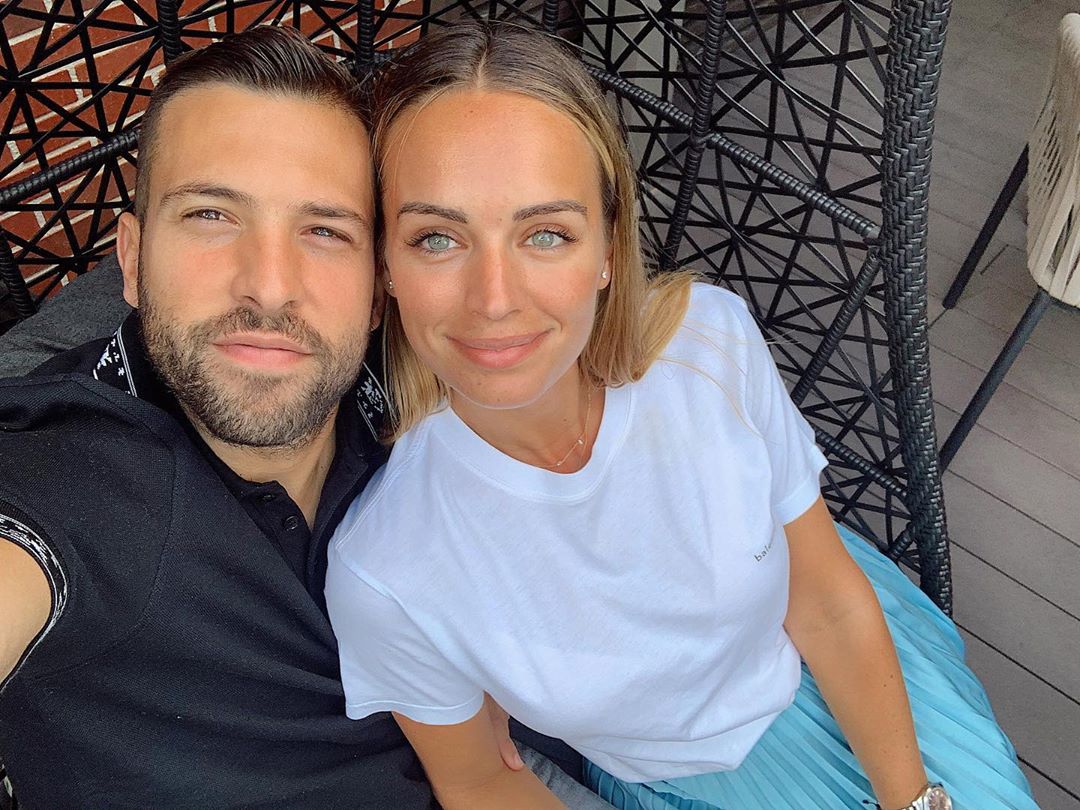 Jordi Alba became a father to a child named "Piero" as the couple welcomed their first child as a son on January 18, 2018. The good news was shared by the great footballer, Alba from his official Instagram profile stating that both his wife and his child are fine. Romarey had also given birth to a daughter, named Bruna, the second daughter of the relationship between Romarey Ventura and Alaba. 
Frenkie de Jong and his girlfriend Mikky Kiemeney –
Barcelona players wives and girlfriends 
Frenkie de Jong is Barcelona's main forward under Xavi and taking an important role since the departure of Messi. He has been in a long-term relationship with the beautiful Mikky Kiemeney. Both have been together since high school, as they first met there and she has been supporting him since then.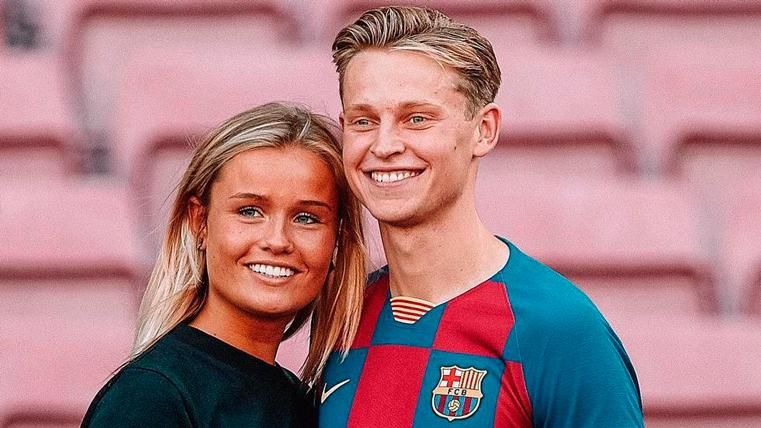 Mikky met Frenkie in the year 2014 for the first time while they were in Koning Willem II College. They began dating officially in the same year. The couple is neither married nor engaged yet and also does not share any biological child as of now. 
Jong's girlfriend was passionate about playing hokey since her childhood days, and she is also talented in playing this sport. She decided to become a professional hockey player and even made her professional debut for HC Den Bosch's women's team in 2015.
Sergi Roberto and his girlfriend Coral Simanovich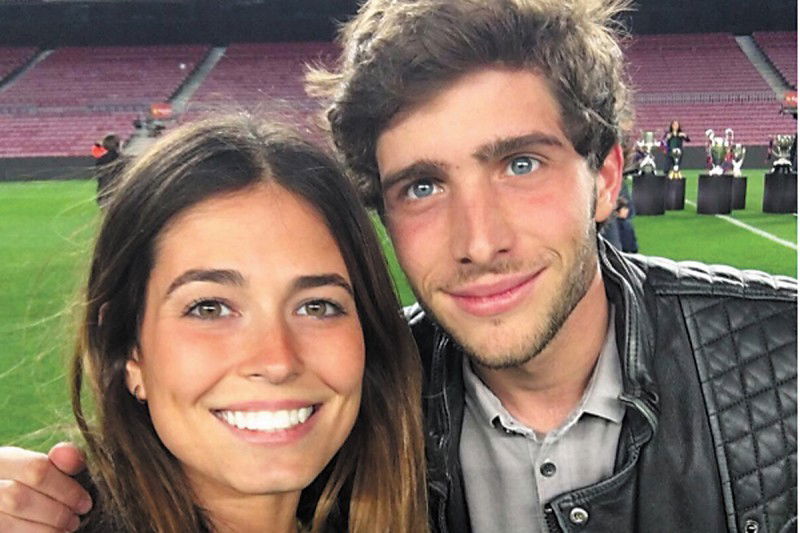 Clement Lenglet and his wife Estelle Lenglet