Five worst Barcelona players this season in 2019/20.
Five worst Barcelona players this season in 2019/20? Here we look at the Five worst Barcelona players this season so far. Who have been the five worst Barcelona players this season? Here we will look at the stats and the writers opinion on who have been the worst Barcelona players in 2019.
Barcelona have had a disappointing season so far and FC Barcelona head coach Ernesto Valverde has had a tough time this season and could be expected to leave at the end of this season due to their poor results and the boss' relationship with the Barcelona players.
Five worst Barcelona players this season in 2019/20
While the whole Barcelona squad have been poor this season, there are a few notable exceptions. Lionel Messi as usual has been brilliant this season but apart from him there are only players like Jordi Alba who have been somewhat good. Let us take a look at five worst Barcelona players this season.
5. Ousmane Dembele
Dembele was signed by Barcelona as a replacement from Borussia Dortmund. He was signed to take up the place of Neymar.
There was a lot of hooplah around his signing. He was a brilliant teenage player who had broken through the ranks at Dortmund. Dembele was shining and standing out and Bundesliga as no one could touch him.
Back then in Barcelona there was a certain Neymar who was not happy with the club. He was trying to outshine Messi but it proving to be futile. So Neymar decided to take the exit route and leave for PSG. He literally forced a move away from the club and Barcelona were handsomely rewarded with a world record fee for the Brazilian. 
It also however, meant that everybody knew how much Barcelona had received and that there wallets were thick. Hence when they came knocking for Dembele, it was a tough situation and they had to pay a record fee again for their club signing.
It put a lot of pressure on the young kid and naturally his time at Barcelona has been judged more harshly. However, even despite keeping this in mind, Dembele has performed very poorly this season.
The player's performance can be reasoned to bad training habits, not showing up for practice sessions and a bad lifestyle. He has been once again very poor for someone with his talent. 
4. Sergio Busquets
He has been an absolute stellar rock for Barcelona in all his time at the club. However, it seems age is catching up with him.
Busquets was never the fastest or the most athletic player. He was more of an operator of the brain and it is his instinct reactions which are slowing down. He can still be a game changer but in general, his performance level has dropped by Busquets standards.
He will need to be replaced soon.
3. Arturo Vidal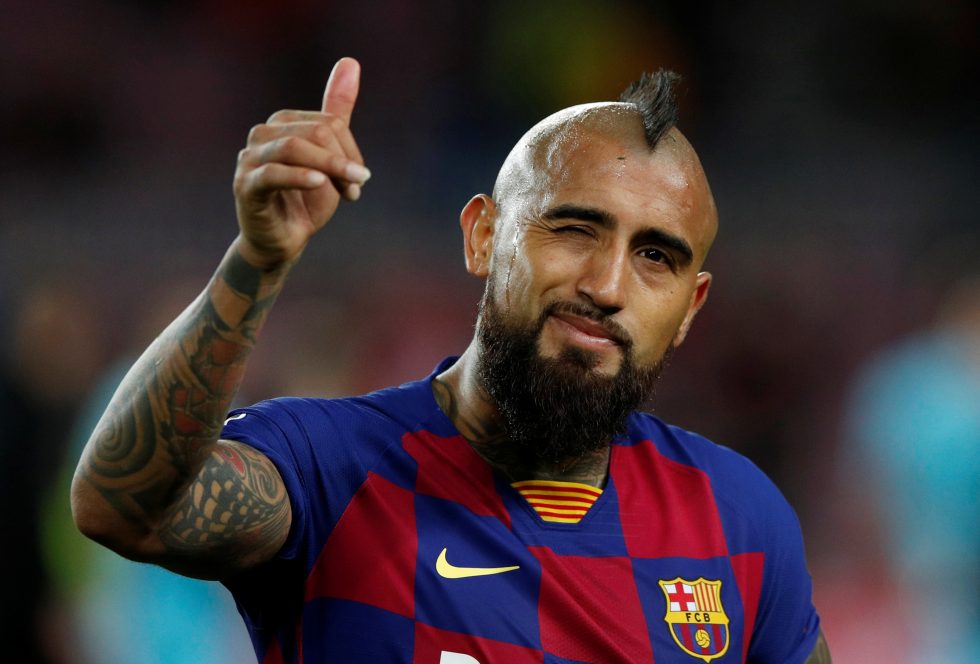 Why Barcelona ever signed him, no one will know. He is far from a player who will pass the ball, hold his position and play with finesse rather than power. He is the exact opposite of everything Barcelona represents. 
He probably best reflects the crisis in identity under Valverde as he does end up scoring but in general he loses too many balls, does not make himself available for passes and is very poorly disciplined. 
2. Gerard Pique
Another player with whom age has caught up. 
Gerard Pique was a slow developer and was sold to Manchester United at a very young age. He did not do too well at the club in England with Vidic and Ferdinand at the top of their game and when Pep took charge of Barcelona, Pique was signed back. 
Ever since then, he has been made to play for Barcelona and has been brilliant. He is one of the best modern day ball playing centre backs who has won unlimited silverware. 
However, he was always a little frail defensively and is now being exposed too much almost every match. 
He has not been able to play at the highest level this whole season and soon needs to be replaced. The problem with replacing Pique is that there are no good options either and removing a player of his stature and leadership and influence at the club is not going to be easy. Tough days ahead for both the club and the player. 
1. Ernesto Valverde
Yes, we could have picked a player. There are not shortage of bad players in Barcelona this season. However, we realise that if the whole squad is underperforming then the problem is probably with their training, coaching and drilling. 
Hence our pick for the worst Barcelona employee is Ernesto Valverde, the Barcelona coach.
He is a man who is clueless at a club like Barcelona. Barcelona like to play possession football. They move the ball fast, with suave and in style and unlock defences with little pockets of plays. 
However, Valverde is a small club coach who does not understand the finer intricacies of the game. He plays the hard way with a team who cannot match opponents physically and hence Barcelona keep falling short. It is only Messi who keeps saving the team and the coach day in day out with some individual brilliance.
SEE MORE:
10 Barcelona-Real Madrid players: Footballers to have played for both clubs
Barcelona vs Real Madrid 2019/20: Match Date, Start Time, Channels
El Clasico results since 1902? Barcelona vs Real Madrid history results list!
10 Legendary Barcelona players: Top 10 most Valuable stars at Nou Camp