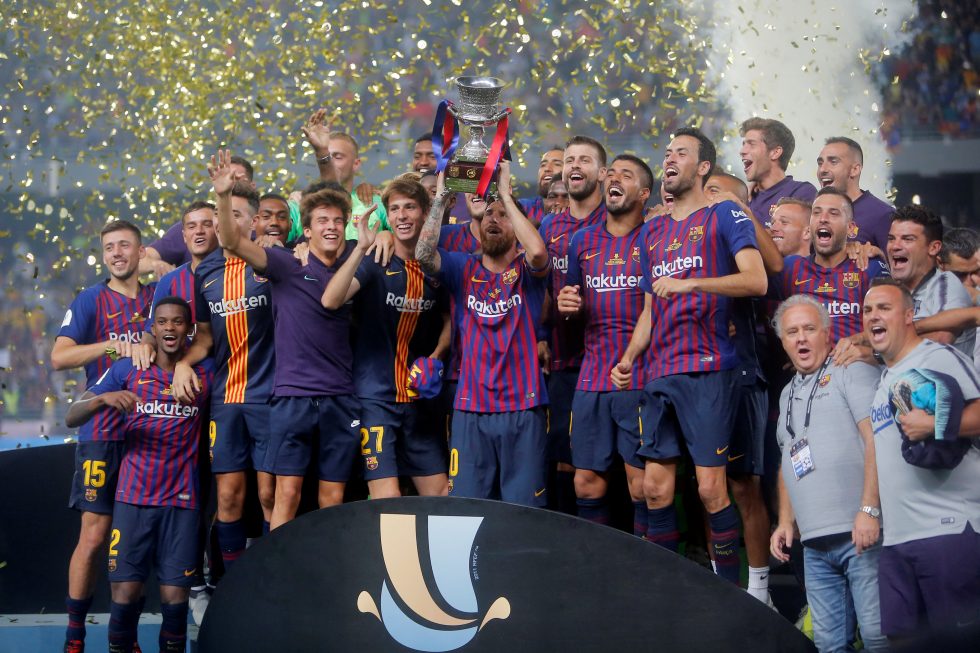 FC Barcelona Players List
FC Barcelona Players list of all time? This is a list of notable players for Barcelona Football Club, whether or not they have a Wikipedia article. It generally includes only those players who made more than 100 appearances for the club. But also those who fell just short of 100 and made a notable contribution. Or members of the club's first ever side or were voted Player of the Year.
There have been a lot of FC Barcelona players in the past that have been cult figures. Xavi, Andres Iniesta, Ronaldinho, Lionel Messi etc all who have been legends at the club.
List of notable Barcelona players
He we look at the FC Barcelona Players who have impacted the club the most. Dates and figures are for the individual's career with Barcelona only. Figures are for all competitive matches and include substitute appearances.
FC Barcelona Players with over 100 appearances
So here we have all the FC Barcelona Players who have played more than 100 appearances.
The list of FC Barcelona players is as of 25 December 2019.
Name
Nationality
Position
Barcelona career
Appearances
Xavi *
 Spain
Midfielder
1998–2015
505
Andrés Iniesta*
 Spain
Midfielder
2002–2018
442
Lionel Messi *
 Argentina
Forward
2004–
414
Carles Puyol *
 Spain
Defender
1999–2014
392
Migueli
 Spain
Defender
1973–1989
391
Víctor Valdés*
 Spain
Goalkeeper
2002–2014
387
Carles Rexach
 Spain
Forward
1965–1981
328
Guillermo Amor
 Spain
Midfielder
1988–1998
311
Sergio Busquets
 Spain
Midfielder
2008–
306
Andoni Zubizarreta
 Spain
Goalkeeper
1986–1994
301
Juan Manuel Asensi
 Spain
Forward
1970–1980
299
Joan Segarra
 Spain
Defender
1949–1964
299
Joaquim Rifé
 Spain
Defender
1964–1976
290
Antoni Ramallets *
 Spain
Goalkeeper
1946–1961
288
César Rodrìguez
 Spain
Forward
1942–1955
287
José Ramón Alexanko
 Spain
Defender
1980–1993
274
Gerard Piqué
 Spain
Defender
2008–
271
Antoni Torres
 Spain
Defender
1965–1976
269
Sergi
 Spain
Defender
1993–2002
267
Pep Guardiola
 Spain
Midfielder
1990–2001
263
Francisco José Carrasco
 Spain
Forward
1978–1989
262
José Mari Bakero
 Spain
Midfielder
1988–1996
260
Gallego
 Spain
Defender
1965–1975
248
Dani Alves
 Brazil
Defender
2008–2016
247
Salvador Sadurní
 Spain
Goalkeeper
1961–1976
247
Estanislao Basora
 Spain
Winger
1946–1958
237
José Vicente Sánchez
 Spain
Midfielder
1975–1986
236
Sígfrid Gràcia
 Spain
Defender
1952–1966
231
Eladio Silvestre
 Spain
Defender
1962–1972
226
Víctor Muñoz
 Spain
Midfielder
1981–1988
224
Txiki Begiristain
 Spain
Midfielder
1988–1995
223
Ferran Olivella
 Spain
Defender
1956–1969
215
Josep Seguer
 Spain
Winger
1943–1957
214
Marcial Pina
 Spain
Midfielder
1969–1977
210
Marià Gonzalvo
 Spain
Midfielder
1942–1956
208
Luis Enrique
 Spain
Midfielder
1996–2004
207
Miguel Ángel Nadal
 Spain
Defender
1991–1999
207
Phillip Cocu
 Netherlands
Midfielder
1998–2004
205
Albert Ferrer
 Spain
Defender
1990–1998
204
Pedro *
 Spain
Winger
2008–2015
204
Javier Mascherano
 Argentina
Defender
2010–2018
203
Eusebio Sacristán
 Spain
Midfielder
1988–1995
203
Julio Alberto Moreno
 Spain
Defender
1982–1991
200
Josep Maria Fusté
 Spain
Midfielder
1962–1972
197
Ronald Koeman
 Netherlands
Defender
1989–1995
192
Antonio Olmo
 Spain
Defender
1976–1984
188
Martí Vergés
 Spain
Midfielder
1956–1966
188
Pedro María Artola
 Spain
Goalkeeper
1975–1984
186
László Kubala
 Czechoslovakia
Hungary
Spain
Forward
1950–1961
186
Antonio de la Cruz
 Spain
Defender
1972–1979
183
Patrick Kluivert
 Netherlands
Forward
1998–2004
182
Abelardo
 Spain
Defender
1994–2002
178
José Puig Puig
 Spain
Defender
1942–1951
178
Hristo Stoichkov
 Bulgaria
Forward
1990–1995
1996–1998
175
Michael Reiziger
 Netherlands
Defender
1997–2004
173
Quique Costas
 Spain
Defender
1971–1980
172
Luís Figo
 Portugal
Midfielder
1995–2000
172
Bernd Schuster
 Germany
Midfielder
1980–1988
170
Juan Velasco
 Spain
Goalkeeper
1943–1954
168
Michael Laudrup
 Denmark
Midfielder
1989–1994
167
Esteban Vigo
 Spain
Midfielder
1977–1987
166
Rafael Márquez
 Mexico
Defender
2003–2010
163
Juan Carlos Pérez
 Spain
Midfielder
1968–1975
163
Ramón Villaverde
 Spain
Forward
1954–1963
162
Jordi Alba
 Spain
Defender
2012–
157
Rivaldo
 Brazil
Midfielder
1997–2002
157
Josep Escolà
 Spain
Forward
1934–1949
152
Francisco Calvet
 Spain
Defender
1939–1952
151
Justo Tejada
 Spain
Forward
1953–1961
149
Pedro María Zabalza
 Spain
Midfielder
1967–1973
149
Josep Gonzalvo
 Spain
Midfielder
1943–1950
146
Julio Salinas
 Spain
Forward
1988–1994
146
Gerardo Miranda
 Spain
Defender
1981–1988
145
Ronaldinho
 Brazil
Forward
2003–2008
145
José Antonio Zaldúa
 Spain
Forward
1961–1971
145
Frank de Boer
 Netherlands
Defender
1998–2003
144
Samuel Eto'o
 Cameroon
Forward
2004–2009
144
Roberto Fernández
 Spain
Midfielder
1986–1990
144
Eduardo Manchón
 Spain
Winger
1950–1957
144
Johan Neeskens
 Netherlands
Midfielder
1974–1979
140
Josep Raich
 Spain
Midfielder
1934–1936
1940–1945
140
Gustau Biosca
 Spain
Defender
1950–1958
139
Johan Cruyff
 Netherlands
Forward
1973–1978
139
Jesús María Pereda
 Spain
Midfielder
1961–1969
134
Enric Gensana
 Spain
Defender
1956–1964
132
Gabri
 Spain
Midfielder
1999–2006
129
Ivan Rakitić *
 Croatia
Midfielder
2014–
129
Oleguer
 Spain
Defender
2001–2008
127
Andoni Goikoetxea
 Spain
Midfielder
1988–1994
126
Eric Abidal
 France
Defender
2007–2013
125
Luis Suárez *
 Uruguay
Forward
2014–
125
Marcos Alonso Peña
 Spain
Winger
1982–1987
124
Julio César Benítez
 Uruguay
Defender
1961–1968
123
Jaume Elías
 Spain
Defender
1943–1949
123
Neymar *
 Brazil
Forward
2013–2017
123
Javier Saviola
 Argentina
Forward
2001–2004
2006–2007
123
Urbano Ortega
 Spain
Midfielder
1981–1991
122
Luis Suárez *
 Spain
Winger
1954–1961
122
José Bravo
 Spain
Forward
1940–1948
120
Javier Urruticoechea
 Spain
Goalkeeper
1981–1988
120
Seydou Keita
 Mali
Midfielder
2008–2012
119
José Antonio Ramos Huete
 Spain
Defender
1976–1982
119
Adriano
 Brazil
Defender
2010–2016
114
Evaristo de Macedo
 Brazil
Forward
1957–1962
114
Juan José Nogués
 Spain
Goalkeeper
1930–1942
114
Deco
 Portugal
Midfielder
2004–2008
113
Mariano Martín
 Spain
Forward
1939–1948
112
Eulogio Martínez
 Paraguay
Spain
Forward
1956–1962
111
Miguel Reina
 Spain
Goalkeeper
1966–1973
111
Ramón Calderé
 Spain
Forward
1984–1988
110
Pedro Zaballa
 Spain
Midfielder
1961–1967
109
Giovanni van Bronckhorst
 Netherlands
Defender
2003–2007
105
Bojan
 Spain
Forward
2007–2011
104
Josep Moratalla
 Spain
Midfielder
1981–1988
104
Gary Lineker
 England
Forward
1986–1989
103
Ricardo Serna
 Spain
Defender
1988–1992
101
Quini
 Spain
Forward
1980–1984
100
Popular Barcelona players with less than 100 appearances
Name
Nationality
Position
Barcelona career
Appearances
Allan Simonsen
 Denmark
Forward
1979–1982
98
Thiago Motta
 Italy
Midfielder
1999–2007
96
Cayetano Ré
 Paraguay
Forward
1962–1966
84
David Villa
 Spain
Forward
2010–2013
77
Sándor Kocsis
 Hungary
Forward
1958–1965
75
Yaya Touré
 Ivory Coast
Midfielder
2007–2010
74
Gheorghe Popescu
 Romania
Defender
1995–1997
66
José Manuel Pesudo
 Spain
Goalkeeper
1961–1966
65
Hugo Sotil
 Peru
Striker
1973–1977
65
Martí Ventolrà
 Spain
Winger
1933–1937
58
Gianluca Zambrotta
 Italy
Forward
2007–2011
58
Vicenc Piera
 Spain
Midfielder
1920–1933
53
Hans Krankl
 Austria
Midfielder
1978–1980
46
Romário *
 Brazil
Forward
1993–1995
46
Ronaldo
 Brazil
Forward
1996–1997
37
Gheorghe Hagi
 Romania
Midfielder
1994–1996
36
Diego Maradona
 Argentina
Midfielder
1982–1984
36
Josep Samitier *
 Spain
Midfielder
1919–1932
28
Alejandro Morera Soto
 Costa Rica
Forward
1933–1935
24
Ferenc Plattkó
 Hungary
Goalkeeper
1923–1930
17
Paulino Alcántara
 Philippines
Spain
Forward
1912–1916
1918–1927
—
Carles Comamala
 Spain
Forward
1903–1912
—
Joan Gamper *
  Switzerland
Forward
1899–1903
—
Ramón Torralba
 Spain
Midfielder
1913–1928
—
SEE ALSO: