Barcelona Most Goals Scored?  Who are the Barcelona Most Goals Scored Players?
Do you know all the Barcelona Most Goals Scored? Check out list here where we have listed the highest scorers for FC Barcelona.
We have prepared a list for you for Barcelona Most Goals Scored!
Barcelona Most Goals Scored
Check out the list of Barcelona Most Goals Scored!
Here are the highest scoring Barcelona strikers:
| | | | | |
| --- | --- | --- | --- | --- |
| Player | Matches | Minutes per goal | Goals per match | Goals |
| Lionel Messi | 705 | 92′ | 0,88 | 618 |
| César Rodríguez | 291 | 134′ | 0,67 | 195 |
| Suarez | 268 | 120′ | 0,71 | 190 |
| Rivaldo | 236 | 151′ | 0,56 | 133 |
| Eto'o | 199 | 126′ | 0,65 | 130 |
| Kluivert | 259 | 171′ | 0,47 | 123 |
| Stoichkov | 247 | 160′ | 0,46 | 114 |
| Neymar | 186 | 146′ | 0,56 | 105 |
| Pedro | 321 | 196′ | 0,31 | 99 |
| Ronaldinho | 207 | 184′ | 0,45 | 94 |
Clearly Messi is ahead of all of them. And he should be!
Barcelona will never be able to replace Lionel Messi once he leaves. The Argentinian cemented his places as one of the greatest Barcelona strikers of all time in his lifelong spell at the club.
Barca also has Suarez and Ronaldinho who scored countless goals at Barcelona. But unfortunately, the Suarez is old now and Ronaldinho was not as consistent as Messi. Then there are the likes of Neymar and Pedro who also make the list here.
Let us analyze a few of the careers of these great scorers at Barcelona!
Luis Suarez
Suarez is one of Barcelona's best strikers.
He scores goals for fun and has had incredible success at the club. From winning league titles to winning Champions Leagues and Club world Cups, Suarez has tasted all kinds of success at the club.
He was a part of the famous MSN team. In the MSN, Suarez had the two of the world's best wingers in Messi and Neymar on his flanks while he played as a central striker.
He was formerly a Liverpool player where he was one of the best players in the squad. He had a tremendous run of form for the Reds and was genuinely a cut above them. This led to Barcelona signing the Liverpool star for a club record fee.
Lionel Messi
There is nothing much to say about to him to impress people. As you can see from the stats, Messi's goal tally is so high that even if you join the goals for the next four players in the list, Messi alone has scored more than them.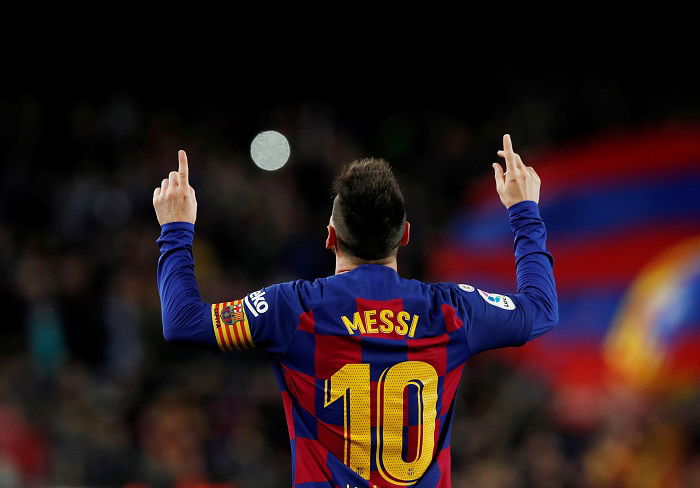 He is a Barcelona player who has been at the club all his life. He has scored goals from a small age and announced his arrival in style as a teenager when he scored a hat trick at the Nou Camp.
He has now won 6 Ballon d'ors at the club. The most trophies won by any player. Messi has done it beautifully as he has never been a selfish player. It is just ability to think faster than anyone and hard work on the pitch that has made him who he is.
Neymar
Let us start with the hottest player on Barcelona's radar right now obvioulsy!
The love-hate child of Barcelona could have very much become a beneficiary to Messi. He has the potential and the range of abilities to take on Messi and unquestionably be better on a day. In any case, he does not have Messi's consistency.
Neymar came to Barcelona from South America and substantiated himself at Barcelona. He was a splendid objective scorer and learning under Messi, he was before long going to turn into the best player on the planet.
In any case, avarice stuck him as he needed the lime light just on himself and left Barcelona for PSG. In Paris, Neymar was dealt with like a divine being the place he was given everything and consistently got his direction.
In any case, such connections never end well and Neymar's pointless way of life and damage track record in addition to a faiilure to convey has now brought about the PSG board despising him.
Neymar has now himself made himself the unfortunate casualty by and by gunning for a move. This time back to Barcelona. He can at present be perhaps the best player yet he needs to change his demeanor.
Ronaldinho
Not many players can bring the Nou Camp and Santiago Bernabeu to their feet. Well he did. This is a man who for the first time was loved, respected and admired by both sets of fans despite just playing for Barcelona.
While playing for the team from Nou Camp, Ronaldinho won two successive Ballon d'Ors. In 2004 and 2005 he was nominated as the best player in the world. Prior to that he was also given the special status in the Brazil team as he helped them win the FIFA World Cup in 2002!
Ronaldinho was a treat to watch on his day. He is one of those players who come once in a generation and football has hardly seen a more gifted player in the game. He could dazzle team mates and opposition with every possible bit of skill.
His skills and dribbling are second to none. There is a famous story about kid Ronaldinho and how he came into the football limelight.
Ronaldinho was once part of a team for kids where his team won 23-0. He was spotted by the scouts as an interesting player as he was the guy who had scored all 23 goals in the match!
See More:
Barcelona Players Contracts 2019/2020: FC Barcelona Players
Barcelona Most Expensive Signings: Highest Paid Transfers At Barcelona
FC Barcelona record appearances: Top 5 Barcelona record appearances of all time!
FC Barcelona young and old players: The Best Barca players by age