5 Most Valued Barcelona Players!
5 Most Valued Barcelona Players? Who are the 5 Most Valued Barcelona Players with the highest market value? Here we take a look at the 5 Most Valued Barcelona Players. Which Barcelona players are worth the most amount of money in the transfer market as of 2019-20?
Lionel Messi market value? Antoine Griezmann market value? Are you interested in learning Gerard Pique's market value too? Here we look at Barcelona's best players and their market worth. How much can Barcelona sell them for?
You can probably guess that players such as Lionel Messi and Antoine Griezmann will be worth a lot. But do you know how much they are worth? Different factors such as age, position, and attitude can contribute to a player's value, while their contract length is probably one of the more significant factors. Players with a short contract are usually worth much less than players with a 5-year contract.
Here are the 5 Most Valued Barcelona Players 2020
5. Frenkie De Jong: 5 Most Valued Barcelona Players
Value: €85m
The young Dutch midfielder had a breakthrough season last time out at Holland with Ajax. Last season he took an exciting Ajax team to the semi-finals of the Champions League and De Jong was crucial in that. 
He is only in his early 20s but has shown signs that he is the next pass master of football and can ably replace Sergio Busquets at Nou Camp. 
He is taking some to get adapted as all players do but Barcelona should not be worried. Moreover, Barcelona coach Valverde also needs a lesson or two on tactics and management and not play De Jong out of position all the time.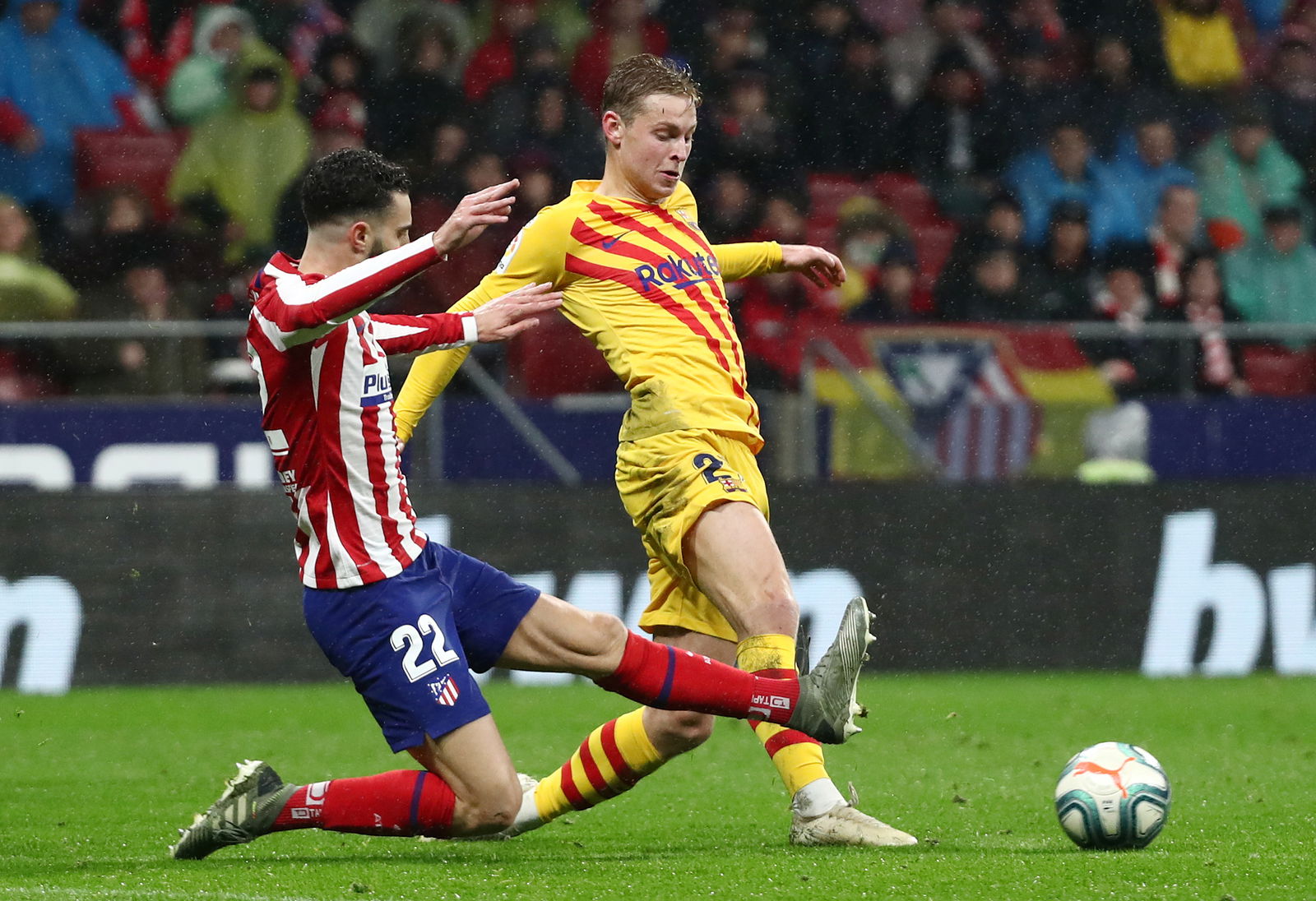 4. Marc Andre-Ter Stegen: 5 Most Valued Barcelona Players
Value: €90m
We all know about Manuel Neuer got insecure and wanted his Bayern bosses to speak to the media and the German FA right? 
Yes well that happened because, Neuer, the self-claimed best goalie was ousted from the national team by this man – Ter Stegen.
The Barcelona goalie ever since his move to Nou Camp has gone from strength and strength and is one of the best keepers in the game today. 
He is good with his feet and excellent as a sweeper. His reflexes while keeping one v one is out of the world and he is only 27! No wonder Barcelona rate him so highly and he has such a high market value!
3. Ousmane Dembele: 5 Most Valued Barcelona Players
Value: €100m
The French youngster was brought in when Barcelona had recently sold Neymar and so had earned a lot of money from the Brazilian's well documented move to Paris.
It made every club demand an unreasonably high amount of money from Barcelona since the Catalans had revealed the strength of their wallet. What added to the situation was that the player was not someone who could either be easily replaced or someone Barcelona had a back-up player for.
Finally Dembele was brought in and in three seasons has failed miserably. There has been unfortunate injuries but he has not taken care of his body either. He has repeatedly been called out and exposed by the media for clubbing late, sleeping late, going out too much, missing training, coming late for training almost on a daily basis.
Barcelona had paid a record fee and are now seeing the roadblock that he is, the Catalans will desperately want to sell him but they do still value him highly.
They will want him gone come January but we do not see too many suitors for an ill disciplined yet expensive player like Dembele.
2. Antoine Griezmann: 5 Most Valued Barcelona Players
Value: €130m
He was signed earlier in the summer by the club. A talented player who won the FIFA World Cup with France last season. Barcelona are extremely lucky to have signed him. However, they have not been able to use him properly. 
He has been used on the left side of a front three with Luis Suarez and Lionel Messi. However, Griezmann is more of a centre forward than a winger. He needs to be in front of goal and is a sniffer who can make opportunities out of nothing. 
He will surely adjust and become a good player but Barcelona need him to deliver now since the price tag on him is so high.
1. Lionel Messi
Value: €150m
The world's best player recently won the Ballon d'Or for the sixth time. No other player apart from Cristiano Ronaldo has even won it 4 times. Do you see the comparison?
Messi last week broke yet another record in La Liga and he pretty much does it on a regular basis. He carries the entire Barcelona team week in week out and Messi will soon become a living legend if he is already not one.
The lad made his debut at the age of 17 and as a teenager soon after he scored a hattrick at Santiago Bernabeu against Real Madrid announcing to the world that a special star had arrived. 
Today after 15 years at Barcelona, he is the world's best player, probably of all time – and the most valued player not only at Barcelona, but in the world.
See More:
OFFICIAL: Barcelona Hand Ansu Fati Contract Extension And Set Release Clause At €170m
5 Barcelona Striker Targets: Transfers Barcelona can get done in January 2020
Barcelona transfers January 2020: Top 3 Barcelona players to be sold in January 2020
FC Barcelona Players Wages 2019 (Salaries Per Week List)