10 Legendary Barcelona players?
Who are the 10 Legendary Barcelona players? There are so many club greats but who makes the 10 Legendary Barcelona players? Watch & Bet Football Here =>
At Nou Camp, there are decades of history but we have picked out 10 stars who we feel are untouchable. Check out the 10 Legendary Barcelona players!
We have decided to do it based on positions on the pitch. So let us first see how many players from defence make the cut for the 10 Legendary Barcelona players!
10 Legendary Barcelona players: Defenders
Carles Puyol – 10 Legendary Barcelona players
The club captain of Barcelona was a Nou Camp favorite all along. He grew up in the Basque region. He was a Catalonian from birth. A die hard Barcelona character, Puyol was feared and respected by opponents and loved and cherished by team-mates.
On the pitch , he was one of the best players you could choose to have. His leadership qualities are still missed by Barcelona and he remains the captain of the most decorated Barcelona side in terms of trophies under Pep Guardiola.
Dani Alves – 10 Legendary Barcelona players
The right back is the player with the highest number of trophy wins to be currently active. He has played for big clubs like Juventus, PSG and Barcelona and won everywhere. However, it is at Barcelona where he will be remembered as a legend.
He revolutionized the game of a right back by bombing forward every chance he got. Impeccable delivery from crosses, swift passing, silky dribbling and a powerful shot, he was the ultimate attacking full back.
Moreover, it was his natural tendency to bomb forward which allowed Lionel Messi to start making his trademark runs of cutting in. He had a huge role in Messi becoming the lethal weapon he is today. Now let us move on to midfielders!
10 Legendary Barcelona players: Midfielders
Johan Cryuff – 10 Legendary Barcelona players
The man who would change football forever. With Holland, his team employed a certain style of football called the total football and he was the leader of the pack. He transformed that smooth passing style of play with positional accuracy at Barcelona as well leading them to multiple trophies. 
Add to that, his world famous Cryuff turn move, and we have a legend of not just Barcelona, a revolutionary at the club. He inspired many including our very own Pep Guardiola.
Xavi – 10 Legendary Barcelona players
If you want to hold on to the ball, find Xavi. He can pass the ball along all day without flinching or skipping a beat. He is that confident on the ball and that quick with his brain that he would have thought of a hundred options before even receiving the ball.
You cannot make a Xavi, you can teach a player his values. And any midfielder who is half as good as him, will make the game look easy.
Sergio Busquets – 10 Legendary Barcelona players
The central holding midfielder was one of the youngster cherry picked by Pep Guardiola from the Barcelona B team. Initially his play acting was not looked upon nicely by anyone but as time went on, people began to realise the genius the Busquets is.
For a team, who are prone to conceding on the counter and need to build from the back, Busquets is that perfect bridge which can draw up and come down with excellent accuracy. 
Be it making the dirty tactical foul or be it passing the ball out on an intense press, Busquets is never behind the game. He reads and reads and can map out a course to goal in a matter of seconds. 
Barcelona still heavily rely on him and once he has gone, we will know the gap he has left behind.
Andres Iniesta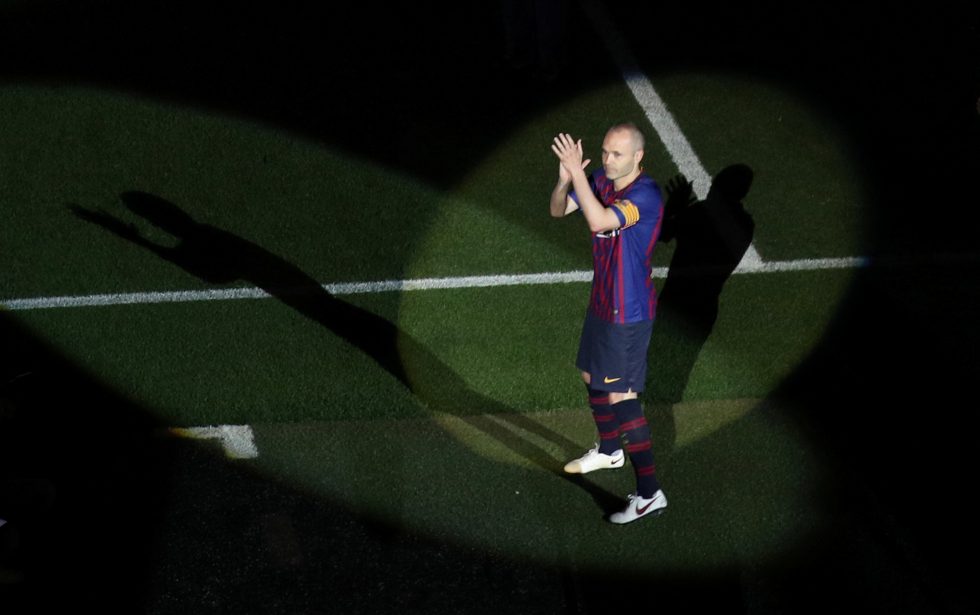 The little Spanish magician is untouchable. He can take on and has taken on more than half a team at once and dribbled past them all. Yet he remains a magnificient passer who wouldn't hold on to the ball. 
He has the computer brain every winger or attacking midfielder should have to develop into a perfect team player but is ambitious enough to cause havoc when needed, he won Spain the tight World Cup final, remember?
10 Legendary Barcelona players: Attackers
Ronaldinho
The smiling assassin from Brazil is loved and adored by all. He got Bernabeu to their feet in applause and endless defenders to their knees in defeat. He glides and flies past players and creates magic out of nothing.
The Ballon d'Or winner is remembered for his special moments and there were far too many for his opponents' liking.
Samuel Eto'o
Not the most famous customer but perhaps the most dangerous player you can afford to mark. Eto'o was a prolific goal scorer, creator and a team man. He won Barcelona CL titles, league trophies and did it all with absolute casual approaches, such was the ability of the man. Watch & Bet Football Here =>
Barcelona should have never sold him. 
Ladislao Kubala
When a club builds a statue in your honor, you know you are special. Kubala was voted as the best Barcelona player ever in 1999. Well that might have changed now, thanks to a certain someone. However, for the 20th centuty at least, Kubala remains the best. 
Scoring 281 goals in 357 games and winning multiple league and European trophies, Kubala is the dangerman who put back Barcelona on the map.
Lionel Messi
It seems unfair to have Messi on this list. Why?
Because he deserved a list of his own. Maybe something like, the 'Best Player Ever'?
Messi is a phenomenon we have been lucky to grow up watching and something we will never see again. 
The perfect player if there ever was one, Lionel Messi is not just a Barcelona legend, he is a football God.
Special mention: Pep Guardiola
The Spanish midfielder captained the Catalan side and was a popular player. However, he will be etched in the club's history books as their manager who made them the best football team ever on the planet and for giving them the golden period of 2008-2012 in football. 
SEE MORE: